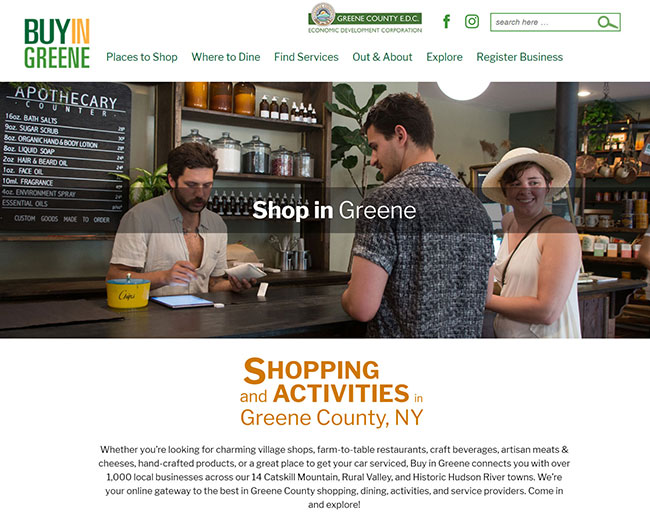 Greene County partnered with KathodeRay to create a buy local campaign.
Our mission? To increase sales tax revenue. Sounds boring doesn't it? We didn't think so.
In 2008, Greene County's buy local campaign started with an agenda to "Think BiG". We wanted to keep purchases in the County. There was also a feeling that our rural area "didn't have anything".
To change that perception, we promoted local businesses to our residents and second homeowners.
We started by distinguishing our buy local campaign with a memorable logo and message. To support and track the effort, we deployed a website. Finally, we produced supporting collateral and advertising to engage the public.
The current website funnels consumers to the information they need, quickly and easily. It features over 1,000 businesses today.
Defining the problem
Research uncovered that homeowners were unaware that almost anything they could want, they could buy locally. It was also found that:
They were unaware that taking their purchases outside the county hurt their communities.
Many assumed there was more selection and better prices elsewhere.
There was a perceived lack of abundance and opportunity.
Creating a solution
Our messaging focused on the two consumer behaviors essential to success.
First, county residents needed to "Believe":
Products and services are available within the County
Supporting local business builds stronger, more vibrant communities.
There are great cultural, community, and natural attractions worthy of their exploration.
Second, they needed to take action. Literally "Buy" into the idea that they could make a difference and improve their lifestyle through local purchases.
A new look, for a new market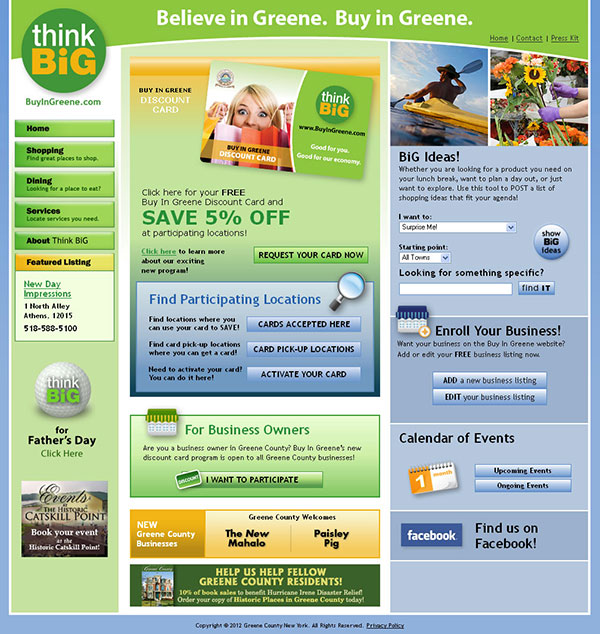 Think BiG Buy Local website (2008-2012) started with 300 businesses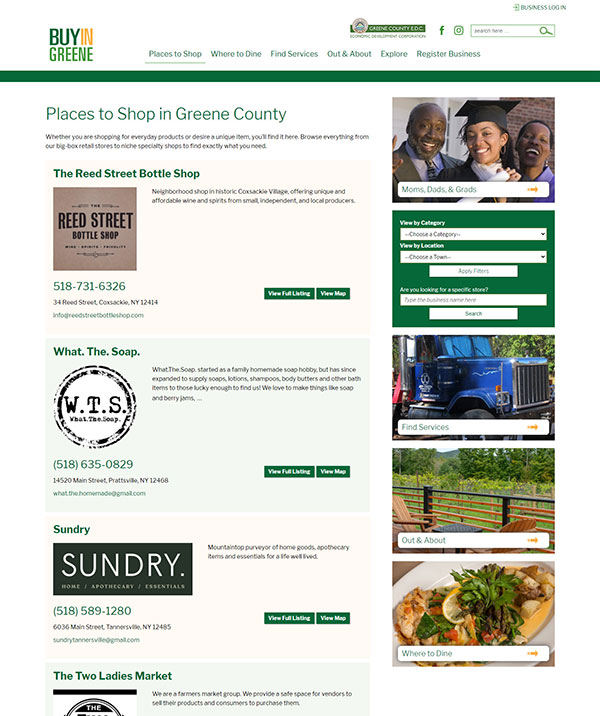 Today's Buy in Greene website with over 1,000 businesses
By 2010, the economic downturn had become the Great Recession. It was difficult for local small businesses to remain solvent. Layoffs in the financial services industry in New York City created a 'relocation migration' to Upstate New York. These new 'Transplants' to Greene County represented a new market.
In response to the changing market, the 'Think BiG' brand transformed into its current 'Buy In Greene' brand that remains today.
Expanding our reach cost effectively
Social media increased in popularity. We leveraged social to engage residents and those new to our area. The buy local campaigns gained popularity, and this calendar of campaigns remains in place today:
Winter Shopping & Activities (January 1 – March 15)
Spring Cleaning, Planting, and Shopping (March 16 – April 25)
Moms, Dads & Grads (April 26 – June 25)
Summer Fun, Shopping and Activities (June 26 – July 31)
Back To School (August 1 – August 31)
Fall Harvest (September 1 – October 31)
Holiday Shopping (November 1 – December 31)
Holiday Ad Campaign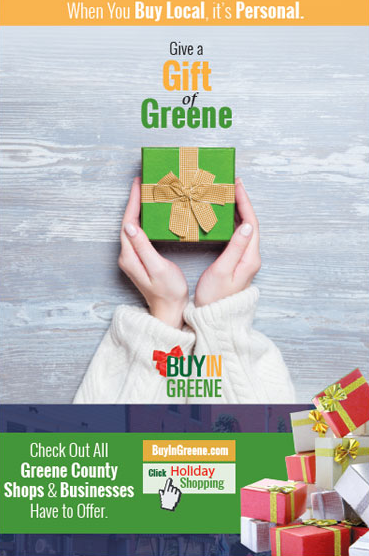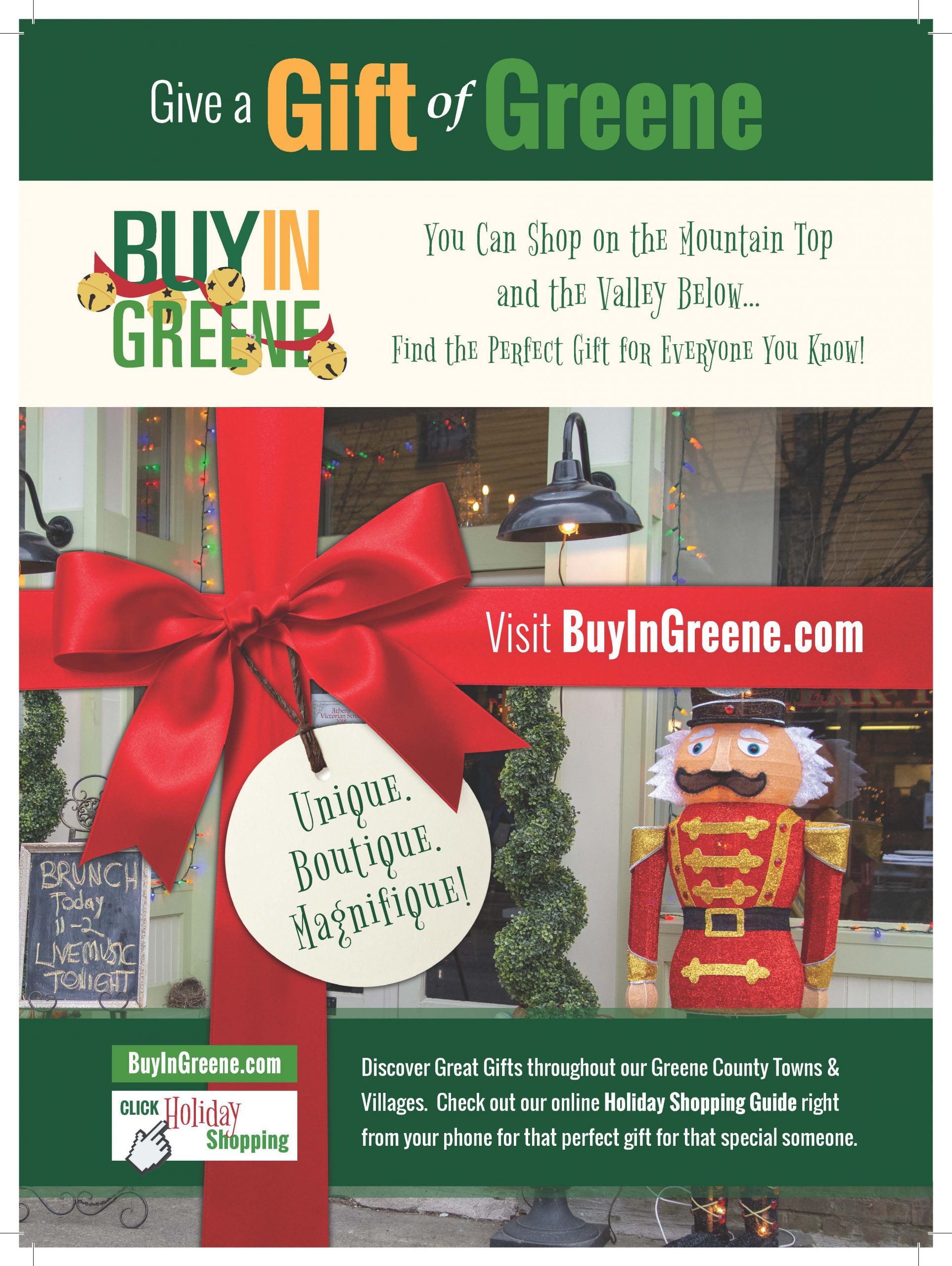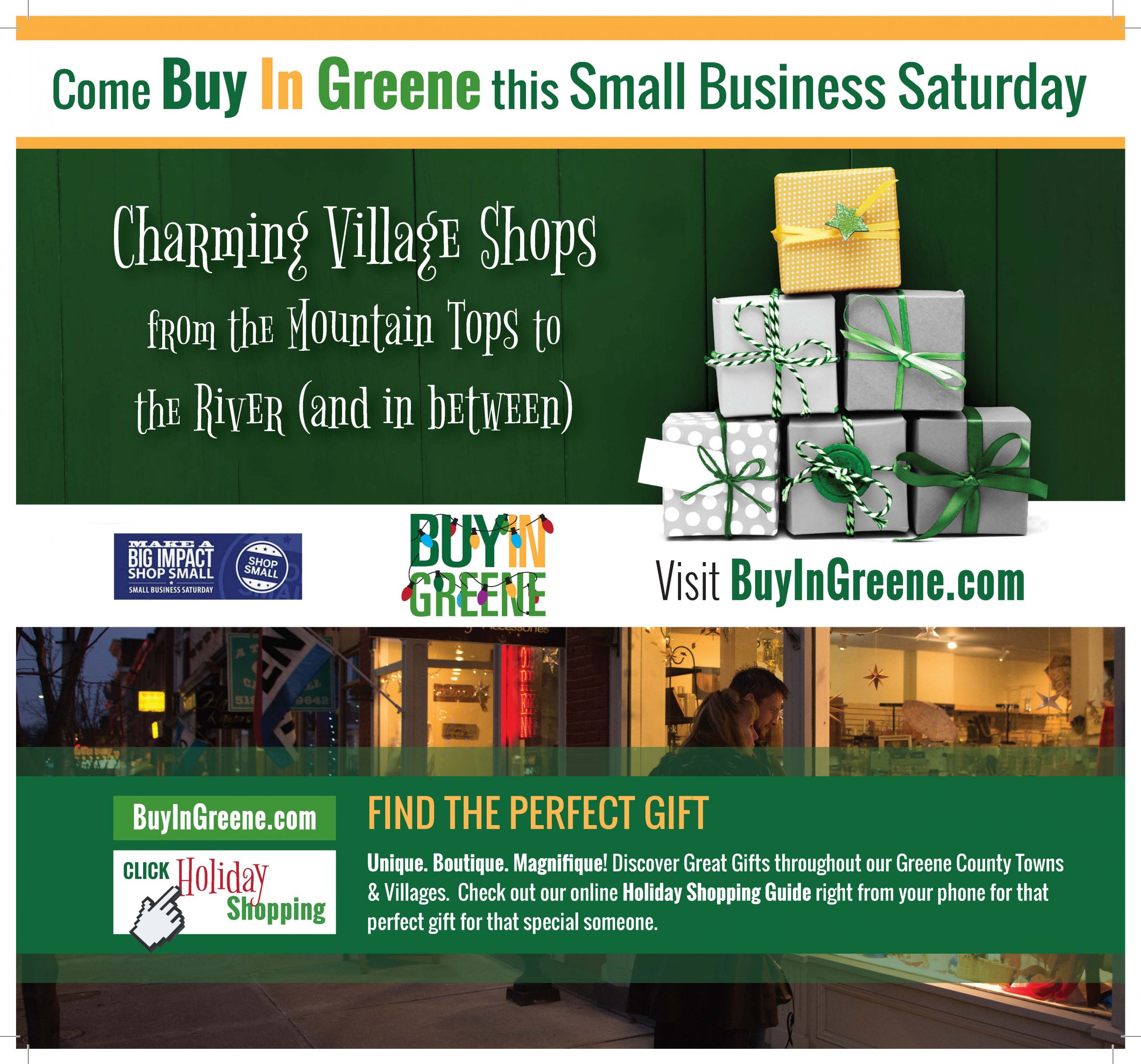 Each Holiday, we promote shopping local, often using Small Business Saturday as a core message. Not only do we attract shoppers from Greene, but we also advertise to consumers in the surrounding counties.
Holidays 2020 Ad Campaign
Holidays 2019 Ad Campaign
Holidays 2018 Ad Campaign
Virtual Main Street
Explore featured business along the main streets of Greene County, NY through our Virtual Main Street 360° Tours. You can browse inside each location and get a feel for the Greene County community before you visit.
Click here to view the website. Or click and explore Last Chance Cheese and Restaurant in Tannersville below.
Refining, expanding and evolving
10 years later, the program's platforms are consistently updated and refreshed.
In 2015, we added an Invest In Greene component, using inbound marketing techniques to encourage new entrepreneurs to "Do What You Do in a Place You'll Love".
In 2016, a study of the Economic Impact of Greene County Second Homes led to the development of a spin-off campaign "You Don't Know Greene".
By late 2018, nearly 80% of internet searches were coming from mobile devices. The website's redesign focused on a mobile first experience.
Starting in 2019, we began to incorporate Virtual Tours of Greene County main streets and businesses. This is helpful now that consumer demand for virtual tours have increased. They want to experience a destination before they travel in-person.
In 2020, COVID-19 dramatically effected how all businesses operated. We used our platform to keep both consumers and business owners updated.
New challenges and opportunities present themselves every year. And we look forward to continuing to encourage local residents to "Buy In Greene".
Get on the Map!
Economic Development & Government Communications News
Stay informed with our monthly publication, created for people who want to build a thriving Community. What's included? Thought-provoking news, tips and insights.