Improving Access to Information
KathodeRay Media has been serving the marketing and advertising needs of the Town of Cairo, NY through multiple administrations.
Beginning in 2015, our teams consolidated the day-to-day operational information required by both residents and town employees into a single, interactive portal at TownOfCairo.com. We designed and implemented an elegant and intuitive interface enabling each town department to manage and update content specific to their needs.
Branding & New Business Attraction
This rural town of 6,700 generates over $50 Million in retail sales simply because of its location. Over 75% of people traveling to a destination within Greene County (which includes both Hunter and Windham Mountain and a large portion of the Catskill Park) pass through the town of Cairo, NY.
Rebranding the town as "The Gateway to the Catskills", we created the online presence and supporting promotional collateral necessary to position the town as a welcoming place for new small businesses, national and regional franchises, and entrepreneurial start-ups.
Supporting Local Businesses
Because we are the Agency of Record for Greene County, we were able to seamlessly add a Shop and Dine section to the Town of Cairo website. We did this by leveraging the database of businesses already registered on Buy In Greene, and displaying those businesses on the Town of Cairo website.
With another new administration in place in 2020, the town began to pursue a more active initiative to celebrate the unique attractions within its constituency.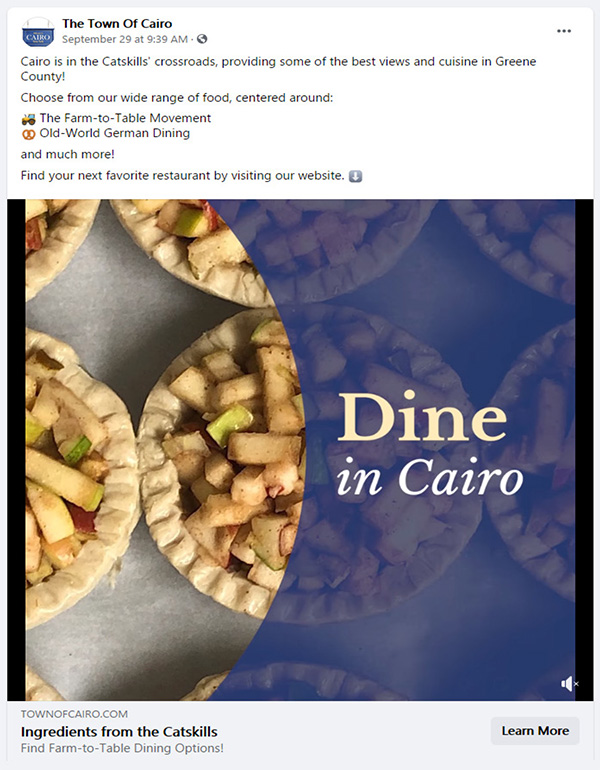 Promoting Destinations
In December of 2019, a scientific study confirmed that Cairo, NY is home to the fossilized remains of the world's oldest known forest, dating back some 385 million years to the Devonian Period.
To promote this discovery, the team at KathodeRay Media began by creating an engaging story about this period in Earth's development (when the Catskill Mountains were actually formed). This content was added to the town's website and formed the basis of the narrative for a three-minute video produced by our team entirely in-house. This 'teaser documentary' incorporates aerial and ground-level video, motion-edited still images, voiceover, subtitles, and music bed. It can be deployed as a continuous loop on screens in town buildings, on the website, and in advertising and marketing initiatives.