Improving Access to Information
The best way to attract new residents and businesses to a town or area, is to help them learn more. The Town of Cairo, NY wanted to do just that.
We started by making information easy to access on their website. You can contact department heads, find answers to FAQs, pay bills online and more.
Each administration has their own focuses and priorities. The website is easy for the current Town Clerk to learn how to update. Our team is always a call or click away to answer any questions or to lend a helping hand.
Branding & New Business Attraction
This rural town of 6,700 generates over $50 Million in retail sales simply because of its location. (Over 75% of people traveling to a destination within Greene County pass through the town of Cairo, NY.)
There are a lot of opportunities for new businesses to capitalize on. From national and regional franchises to entrepreneurial start-ups and small businesses. To attract these businesses we created an outreach campaign.
First, we branded the town as "The Gateway to the Catskills". Then we launched a social media campaign targeting the New York City metro area. Interested people visit a website landing page that has a downloadable e-book. When they fill out their information the Town Supervisor can choose to follow up with them, to see how he can help.
Supporting Local Businesses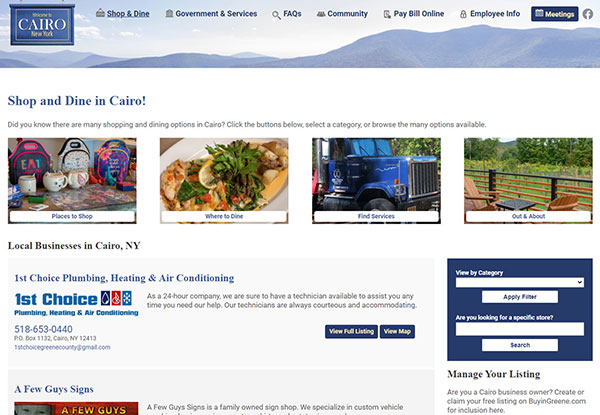 Buying local is very important to small towns. To help locals find dining, products and services we added a Shop and Dine section to the Town of Cairo website.
We understand that it is a challenge to keeping a Directory updated. To solve this, we leveraged the business information already found on Buy In Greene. (It's possible because we are the agency behind that program.) We wanted to keep the users on the Town of Cairo website. So our team displays the information, while tapping into the Buy In Greene data.
Once the Directory was up and running, we added a social and content campaign. We advertised to residents within a 25 mile radius, letting them know all that Cairo has to offer. We also wrote articles about local businesses. We sent the articles to local media outlets, published them on Facebook and their website. The Old Factory brewery article 'went viral', getting pick-ups in a variety of outlets.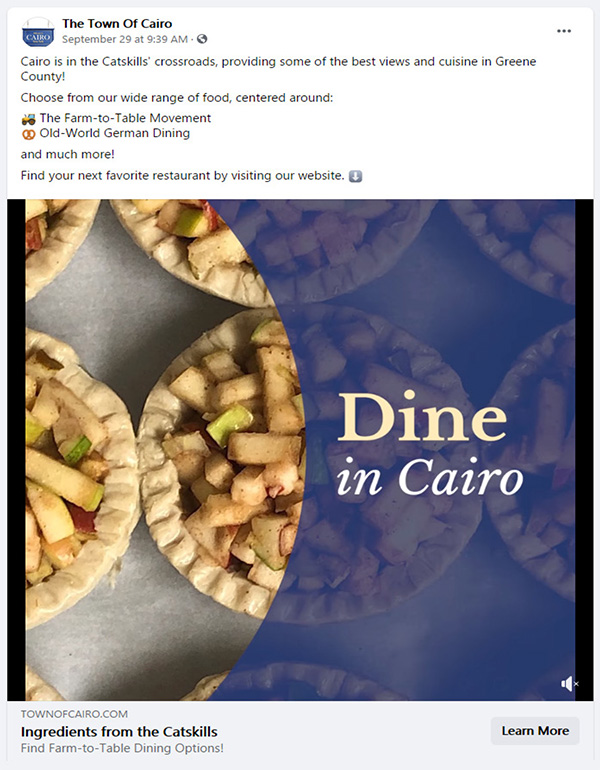 Promoting Destinations
In 2019, a scientific study confirmed that Cairo, NY is home to the fossilized remains of the world's oldest known forest. (It dates back some 385 million years to the Devonian Period.)
To promote this discovery, we created an engaging story about the forest and this period in Earth's development. (The Catskill Mountains were actually formed during this time).
Our 'documentary' incorporates aerial and ground-level video, motion-edited still images, voiceover, and music. The video loops on screens in town buildings and is on a website page with other information. Plus, the B-roll is available to media outlets to assist in outreach and promotion.
Get on the Map!
Economic Development & Government Communications News
Stay informed with our monthly publication, created for people who want to build a thriving Community. What's included? Thought-provoking news, tips and insights.